Pediatric Care in South Hill Bolton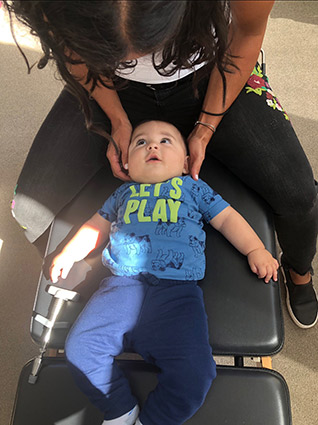 Does it seem like your little one is always sick?
Is it challenging for your child to sit through class?
Does your child still wake up during the night?
All you can think about is, "What's wrong with my child?"
If you're looking for answers, the team at Family Health Chiropractic & Wellness is here for you.
We think that every child in the world deserves to have great health. With chiropractic, you can make sure your child is set up to adapt to the many stresses they encounter. Our care can ensure they're free from health challenges and common child-related ailments, leaving them happy, healthy and able to better enjoy their childhood.
The Right Place for Your Family
You won't have to worry about your child feeling uncertain at our office. When you walk in, you'll see a wall covered with colorful kids' handprints. There are toys to play with. Our youngest patients usually don't want to leave once they've been here!
Dr. Ali works to connect with every child she sees. She'll keep their appointment lighthearted, fun and make sure all of you know you're a part of our family.
Safe, Gentle Techniques
Your child can be adjusted in many different ways. We have a special table just for kids. They can also lie on Mom or Dad or get their adjustment while they're sitting at the kids' table coloring. We'll work around them. All the methods we use for our pediatric patients involve a soft touch that's appropriate for their age.
Take that first step today. Contact our friendly team to schedule your first appointment! Same-day visits are available.
CONTACT US »
---
Pediatric Chiropractor Bolton ON | Family Health Chiropractic & Wellness | (905) 533-5348